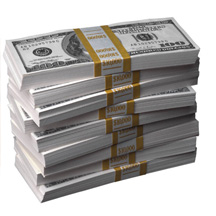 Did you ever wonder what it would cost to land a Toyota Plant? Would you believe $146 million or $195,000 per job? That's the incentive package that Toyota received when they relocated to Kentucky.
The Site Selection Group recently identified more than 320 economic incentive packages offered to companies, like Toyota, across the country in the 2nd quarter of 2014. The estimated value of these incentives is in excess of $1.7 billion. This represents a huge increase over the 1st quarter report which totaled $450 million.
Interestingly, the top 25 incentive packages during the 2nd quarter of 2014 accounted for $135 billion of the total $1.7 billion. However, 90% of the incentive packages provided during the 1st and 2nd quarters of 2014 were for $5 million or less. The Site Selection Group found that the most common forms of incentives offered are tax credits and cash grants.
As an example of the importance of the state incentive package in the process, of the top 25 incentive packages in the 2
nd
quarter of 2014, nine were in New Jersey. This is primarily the result of its new initiative, Grow New Jersey. Since New Jersey enacted the Economic Opportunity Act of 2013, they have awarded $1.1 billion to 45 projects. Below are the top 25 packages.


















Incentive
Value ($M)
Offered































































































































































































































































































































Enable Midstream Services